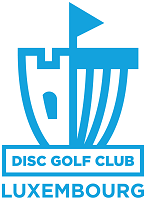 Disc Golf Club Luxembourg was founded on 8th of June 2020 and is the first and currently only Disc Golf club in Luxembourg. The club is part of the Luxembourg Flying Disc Federation and the Luxembourg Field Sports Federation and thus part of the Comité Olympique et Sportif Luxembourgeois. The club is registered in Esch/Alzette.
On 28th of March 2022 the second general meeting of the club was held an Nicolas Piron joined the board as a new member. Welcome Nicolas!
Currently 14 players from Luxembourg have a PDGA licence and are regularly representing our country on national and international tournaments. You can find their latest tournament results here.
Apart from organising our weekly practice, the success story of the club includes:
Support the Disc Golf Club Luxembourg and become an active member! Find more information here.